Border Force fiasco: Operation Fortitude cancelled as protest shuts down Melbourne streets
Protesters force Border Force off Melbourne's streets
Operation Fortitude plan for Australian Border Force to check visas on Mellbourne's streets this weekend called off after flash protests halted city traffic in central Melbourne. (Vision courtesy ABC News24)
A widespread community backlash has led to Victoria's chief police officer cancelling a controversial operation that would have seen people questioned about their visa credentials on Melbourne's streets.
On Friday afternoon, just hours before Operation Fortitude was set to commence in central Melbourne, Chief Commissioner Graham Ashton called off the plans for a wide-scale police initiative that was meant to target anti-social behaviour over two consecutive nights.
Protests at Flinders Street Station.
Photo: Joe Armao
Operation Fortitude was first announced by the Department of Immigration on Friday morning. A press release said officers from the federal government's new Australian Border Force agency would be stationed around Melbourne's city checking "any individual we cross paths with".
The press release sparked a fierce backlash on social media and later in protests that shut down one of the city's busiest intersections, over concerns that police and Border Force officers would use racial profiling to stop and search people for possible immigration fraud.
"If you commit visa fraud you should know it's only a matter of time before you're caught out," the initial Border Force statement said.
Protesters rally against the Australian Border Force in Melbourne last week over the aborted joint operation in the CBD.
Photo: Joe Armao
Around the same time, Victoria Police issued a statement expressing its support for the operation, which was also set to involve transport inspectors, the Sheriff's office and the Taxi Directorate.
However, Fairfax Media understands that after Chief Commissioner Ashton learned of the "specifics" of Border Force's role in the operation, he withdrew his support, effectively aborting the entire plan.
Late on Friday afternoon, the Chief Commissioner's office issued a "please explain" to Border Force chief Roman Quaedvlieg. Commissioner Quaedvlieg conceded the press release issued by his agency was "clumsily worded" and mischaracterised the paramilitary agency's role in the operation.
Protesters took to Melbourne's CBD streets.
Photo: Joe Armao
The statement, largely attributed to Don Smith, Border Force's Regional Commander for Victoria and Tasmania, was widely interpreted to mean officers would stop people for random visa checks. The agency later clarified that it would check the visas of people "referred to us" by police and other agencies involved in the operation.
However, the incident has left the state government and other groups seeking an explanation from the Abbott government.
Victorian Police Minister Wade Noonan said the operation was supposed to be a standard police one, but was cancelled after the "unfortunate and inappropriate characterisation by the Australian Border Force".
Immigration Minister Peter Dutton, Prime Minister Tony Abbott and Australian Border Force commissioner Roman Quaedvlieg.
Photo: Andrew Meares
Other senior members of the Andrews state government were shocked to learn of Border Force's planned role.
It is unusual for Mr Noonan or the Premier's office to receive detailed briefings on major police operations ahead of time unless it is a highly sensitive security issue.
A statement from Victoria Police said the force decided to cancel the operation after the "high level" of community interest and concern.
Victoria's Chief Commissoner of Police Graham Ashton.
Photo: Penny Stephens
About 300 protesters gathered at Flinders Street Station before 2pm, the scheduled time for a press conference about the operation.
After the demonstrators blocked an intersection and security concerns grew, the press conference was cancelled.
Border Force was established in July and reflects the federal government's tougher line on national security. It combined Customs and Immigration functions into one unit. This week the agency attracted attention over the rollout of its new branding, including uniforms, which reportedly cost $10 million.
The Australian Border Force logo.
Border Force officers have more powers than former department officials, including the power to detain offenders, carry guns, and gather intelligence. They can enforce migration laws, including the power to compel a person to produce documents such as visas and tax file numbers to check whether they are an unlawful non-citizen.
Mr Quaedvlieg said Immigration Minister Peter Dutton, a former policeman, was not involved in the issuing the press release. A spokesman for Mr Dutton said "ministers don't direct operational matters". He did not respond to questions over whether he knew of the operation in advance.
Labor's immigration spokesman Richard Marles said Mr Dutton should "come out of hiding" to explain "the shambles that has seen a cross agency operation compromised and a key government agency left red-faced".
Protesters stop traffic outside Flinders Street during action against Operation Border Force.
Photo: Joe Armao
The Australian Border Force did not respond to questions posed by Fairfax Media including how much was spent on the operation.
Fights break out as rival protests clash over Bendigo mosque
United Patriots Front protesters break through barricades in the regional Victorian city before police restore order using capsicum spray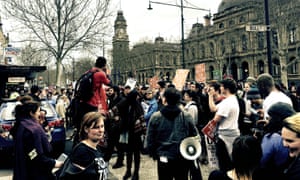 Ugly scenes erupted between rival protesters at an event to condemn the construction of a mosque in Bendigo.
About 300 people opposed to the mosque broke through police barricades and started punching anti-racism protesters on the steps of the Bendigo town hall on Saturday afternoon. An Australian flag was burnt at the end of the protest.
Mounted police intervened and were able to restore order after spraying the crowd with capsicum spray.
United Patriots Front spokesman Blair Cottrell, who was affected by the capsicum spray, said residents did not want the mosque.
Anti-racism leader Ezekiel Ox denounced the presence of the police, labelling them "genocidal maniacs".
Greater Bendigo's mayor, Peter Cox, said it was disappointing that people from outside Bendigo felt the need to visit the city and cause trouble.
"It certainly doesn't put Bendigo in the best situation," Cox said. "We are a welcoming, giving and thoughtful city."
He said the police did a great job of keeping the groups separated.
Several roads in central Bendigo were closed from 6pm on Friday, with further blockades around Hargreaves Mall on Saturday.
Victoria police spokeswoman Clair White said there were no arrests made and the capsicum spray was used to break up minor scuffles.
The local council gave the green light for the opening of the regional city's first mosque in mid-2014, a decision later upheld by the Victorian civil and administrative tribunal.
But opponents claim there is no need for the mosque, which will include two prayer rooms, a shop and a community sports hall.
They argue it will cause traffic and social issues including the "Islamification of Bendigo" and a drop in house prices.
One comment on the "stop the mosque in Bendigo" Facebook site suggested it could lead to the poster not being able to cook bacon.
The rally ended but a strong police presence remained in the town on Saturday evening.